Why Nintendo, Google and others may want to move some manufacturing out of China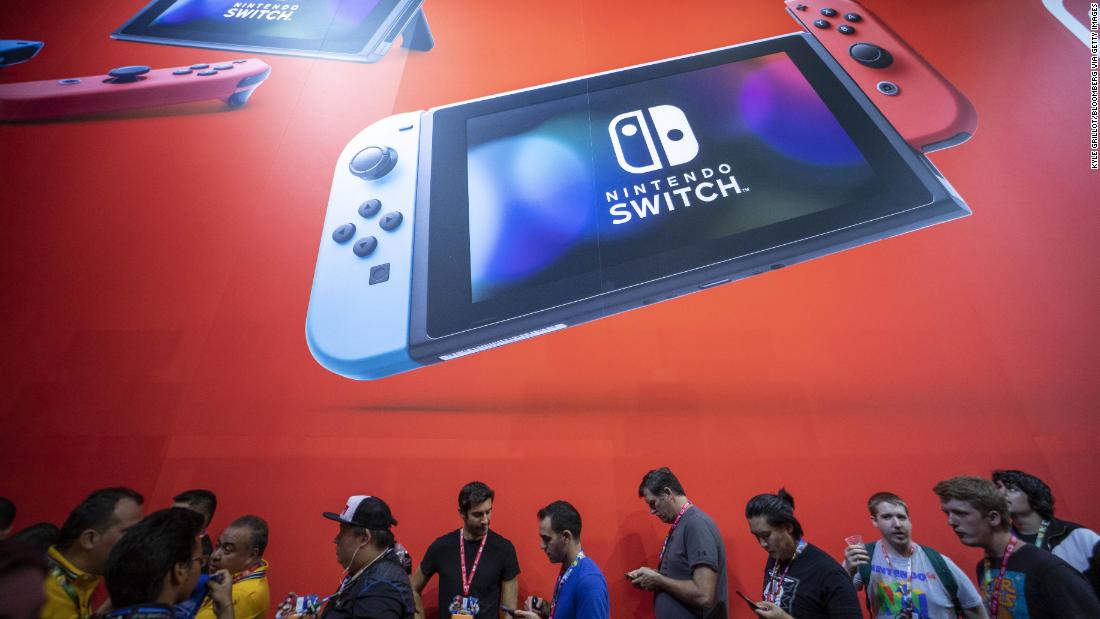 New York (CNN Business)China has long been the world's manufacturing powerhouse. It has the suppliers, the assembly lines, the workers, the expertise. Companies, particularly technology giants like Google, depend on China to assemble their products.
Nintendo
(NTDOF)
and
Google
(GOOGL)
are reportedly seeking alternative locations to make some of their products.
Google, which already has a significant presence in Taiwan, now plans to shift some manufacturing of its Nest thermostats and server hardware out of China to avoid tariffs, according to a
report from Bloomberg
, citing people familiar with the matter. And the
Wall Street Journal reported
that Nintendo is moving some production of its
Switch video game consoles
from China to Southeast Asia, citing people who work on the company's supply chain.
This comes after a senior executive at Foxconn, the Taiwanesecontract manufacturer that makes most of Apple's smartphones in China,
told Bloomberg
that the company has enough capacity to make all United States-bound iPhones outside of China.
Apple
(AAPL)
has not said it is looking to move manufacturing.
Video game consoles are typically a low-margin business, meaning that tariffs on consoles could be a real problem for Nintendo's ability to turn a profit. And Nintendo has been
counting on the Switch
console to drive big sales.
A spokesperson for Nintendo did not confirm or deny that it would be shifting manufacturing away from China.
"Most of the components that make up the Nintendo Switch console are manufactured in China," the spokesperson said. "To help keep costs down for consumers, it helps logistically to assemble products in close proximity of where those parts are manufactured."
The Japanese company did, however, say it is closely following the tariff situation, and that it is "always exploring options" for where its products are produced.
Google
(GOOGL)
did not respond to a request for comment.
Trade war prompts manufacturing moves
Beyond Nintendo and Google, companies have been reconsidering their supply chains since the White House launched a trade war with China last year. Last month, the United States
hiked import tariffs
to 25% from 10% on $200 billion in Chinese goods including electronic equipment and computer products like produce and textiles.
Companies that rely on China for production of goods to be sent to the United States are also concerned about other potential Chinese retaliatory measures, such as increased regulations or customs delays. China has ramped up pressure on American companies as trade tensions escalate.
This uncertainty may be an even more compelling reason to move manufacturing than tariffs, said New York University Stern Business School professor Joseph Foudy.
"If we knew China was facing a 15% to 20% tariff, some companies might just chalk that up to a business expense and stay," Foudy said. "It's the uncertainty that drives you to look abroad because you can't put a price on that."
For tech companies in particular, concerns about
intellectual property and security
have also been points of contention for the US-China relationship and may put pressure on them to diversify their sourcing and manufacturing networks.
Diversifying production
Much of the production work moving out of China has shifted to countries in Southeast Asia — not to the United States. The manufacturing sector in the region this month experienced its strongest growth rate in nine months, according to the most recent
Nikkei-Markit purchasing manufacturers index
, thanks in large part to new orders.
Rising wages in China have given companies yet another reason to
consider moving production to Southeast Asian
countries like Vietnam and Thailand where labor is cheaper. The increasing automation of tech manufacturing makes that easier, as companies no longer have to rely so heavily on highly skilled workers to produce their goods.
Much of the production of Google motherboards bound for the United States has already moved to Taiwan, according to the Bloomberg report. Over the past year, Google has also
invested in its Taiwan engineering and innovation hub
, with plans to expand its campus and double the size of its team in New Taipei City, as well as providing artificial intelligence and digital marketing training to local students.
Despite these shifts, China, the world's largest manufacturer, remains a vitally important production hub. Not only are factories and suppliers centered there but the infrastructure — roads, ports, airports and power grids — remain better than in many of those countries where production has begun to move.
Although companies may gradually move some manufacturing or expand their production networks beyond China, Foudy said he doesn't expect the country's dominance as a manufacturing center will experience any major changes.
"China remains the 'total package' of manufacturing," Foudy said. "The efficiency of manufacturing is based on how many suppliers are located nearby, what the quality of roads and ports and infrastructure is like, the quality and consistency of electricity, and the talent pool to draw on. On all of those metrics, China remains number one."
US President Donald Trump and Chinese President Xi Jinping are scheduled to meet at the Group of 20 summit at the end of this month.
Trump has threatened
to place tariffs on another $300 billion of Chinese exports if China's leader does not attend the meeting. If the negotiations don't end well, companies might more seriously consider moving production out of China.
About the Author
Hello World My name is Joseph Cettina. I live in New Jersey U.S.A With my Wife Jill and daughter Jaime.I Own and Operate Laguna Service Inc, http://www.lagunaservice.com .Factory Authorized Printer Service Center for Okidata.I specialize in Large Format Inkjet printer repair.I been working on the Internet for many years and have Created 30 + Niche Blogs im very interested in the Health and Wellness subjects here are a couple http://mattersnews.com http://joecettina.com http://www.qwikknowledge.com . I'm a Master Home Brewer. I have a small brewery attached to my house where I can brew 22 gal of beer at a time. I like to make Big Beers,Imperials, and IPA styles. It"s a great hobby and the finished product is the best!